Alberta Summer Games Zone 5
---
---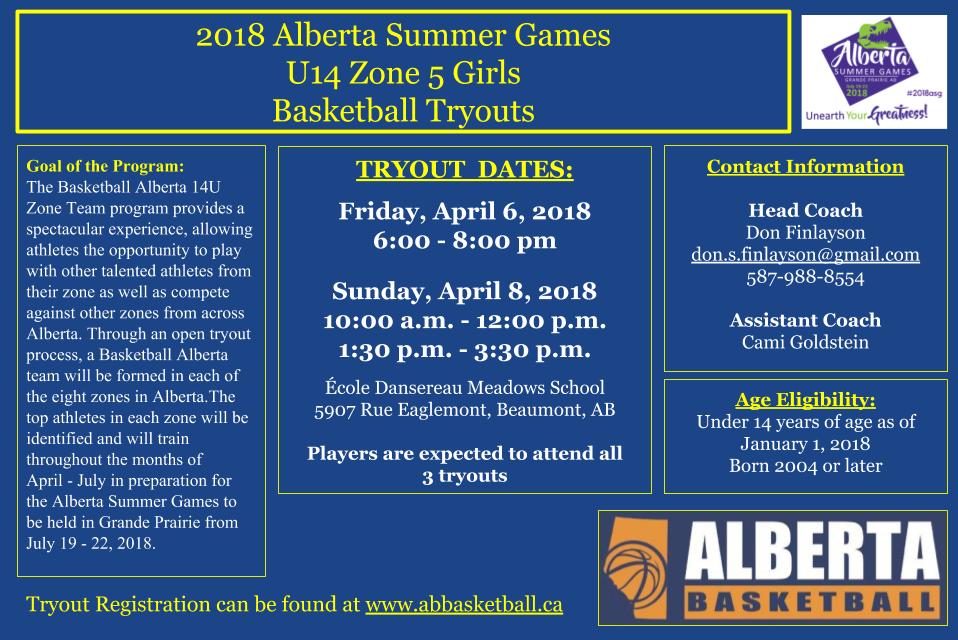 ---
Hello!
Our names are Don Finlayson and Cami Goldstein and we are the coaches for the Zone 5 Girls basketball team at the 2018 Alberta Summer Games being held in Grande Prairie this July 19-22.
We are holding open tryouts on Friday, April 6 and Sunday, April 8 in Beaumont. Athletes are strongly encouraged to attend all the tryout dates for the best opportunity to showcase their skills. I have attached the list of communities included in Zone 5 for your reference as well the other zones across the province. Any female basketball player living in a Zone 5 community born 2004 or later (Under 14 as of January 1, 2018) is encouraged to tryout. Online tryout registration will be posted on the Alberta Basketball website shortly.
Please feel free forward this to any player you believe would be interested in playing.
For community basketball members, if you're able to post this on your website and forward to your players, we'd greatly appreciate it.
If you have any questions, please let us know. Thanks!
Alberta Basketball Website

Don Finlayson
Zone 5 Girls Basketball Coach